A couple of months ago I wrote an article about the importance of the teres major muscle and how I often find it an area of tightness in my clients.  I recommended focusing on that area during manual therapy and some of your self myofascial release techniques.
I've had a lot of readers ask for more information so I wanted to share a video of how I perform some of the self-myofascial techniques.  My preferred technique is to use a trigger point ball or lacrosse ball against a wall (read my recommendations for which self myofascial release tools to use).
I see the teres major limiting horizontal adduction, arm elevation, and disassociation of the shoulder and scapula.  Again, if you haven't read my previous article on the teres major go back and read more about this.  For the self-myofascial release techniques, we'll work on these three areas.
I always start by rolling out the area and pausing on any tight/sore spots.  Most people stop there, but I think it is important to incorporate some movement with the self-myofascial release techniques.  In this video, I show you how I work the teres major during both horizontal adduction and arm elevation.  It is pretty hard to stretch the teres major, but I usually recommend following the self myofascial release for the teres major up with the cross body genie stretch.  This could also work well for the latissimus and even posterior rotator cuff.
Self Myofascial Release for the Teres Major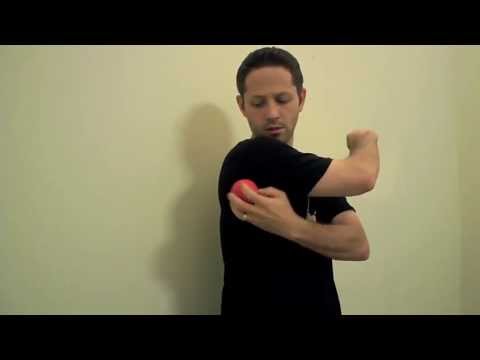 Want to Learn More from Mike?
Join Mike's Newsletter for all his latest content, plus get these FREE bonuses:
1. My 1+ Hour Webinar overviewing my Integrated System of Functional Rehab and Performance Training
2. My 36-page Solving the Patellofemoral Mystery eBook
3. My Accelerated ACL Rehabilitation Protocol
Learn How to Enhance Baseball Performance While Reducing Injuries
Join my baseball newsletter and gain FREE access to my 45-minute webinar where I discuss why injuries occur in baseball players, how you should prepare to put yourself in the best position to succeed, and the 5 principles that I follow to build my programs to safely enhance performance while reducing injuries.